Are you discouraged by the lack of modernity when it comes to psychic platforms online? Maybe you feel a real inhibition to receive an online chat reading because you can't actually see your psychic?
With Oranum, all these issues are solved. Revolutionizing the psychic industry, they are a service that aims to go beyond convention by offering their services in a way unlike any other psychic reading website.
Inside of this Oranum review, we'll explain what Oranum is, how it works, the types of readings offered, and what you can expect by using this psychic reading platform.
What is Oranum.com?
Oranum is different from other online psychic platforms that all have a similar look and feel. Instead, Oranum Psychics' home page brings you to a screen of psychics that are online and doing free video chats.
You can interact with them in these rooms, ask a question, and if you want to book them for a session, all you have to do is click the button that says, "Start Private Chat," and you can begin a psychic reading.
Because psychics are online at regular intervals and interact with members and guests, Oranum com can sometimes feel like a community or even a social network (psychics can share original content on their walls). In our opinion, this enhances the trustworthiness and transparency of Oranum, making it popular among diehards and skeptics alike.
How Does Oranum Work?
At first, it can feel weird to click on a psychic's name and then go directly to a live video of them. Often, the psychic is sitting at their computer, waiting for someone to interact with them and request a psychic reading. Again, if you're not expecting this, it's an odd experience.
Once you're in a chat room with a psychic, you can begin engaging with them to make sure they're a good fit. If you like their personality and have confidence in their abilities, then you can begin a private session with them.
To ensure that you get the most out of your Oranum session, it's helpful to have a specific question in mind. That way, you don't waste valuable (and expensive) time trying to think of an issue to discuss. It can also help to write your questions down in advance, and review them during your readings.
Some psychics on Oranum give you the option to do a video call or an online chat session. The choice is ultimately up to you, but a video call is often recommended because you can see the psychic, exchange energy, have more confidence in their legitimacy, and save time (because typing can slow down the flow of conversation).
And, of course, you can also book an appointment in advance by visiting a psychic's bio and scheduling a session directly from their Oranum calendar.
If a psychic is not online, they'll sometimes have a complimentary video you can watch where they demonstrate their abilities or share more about themselves. All in all, there's no other psychic platform that lets you conduct your own review and get to know a psychic so intimately before you pay for a session.
Types of Psychic Readings Offered on Oranum.com

Oranum has psychics skilled in multiple categories, as well as those that specialize in a single area.
Choose from readings among the following categories and topics:
Love and Relationships
Love readings, horoscopes, and compatibility
Karmic love reading
Tarot and Cards
Angel cards
Gipsy cards
Rune cards
And more
Dream Interpretation
Dream dictionary and analysis
Astrology
Horoscopes
Chinese astrology
Indian astrology
And more
Rituals and Energies
Chakra healing
Reiki
Rune healing
Holistic and natural healing
Home and Family
Career and work
Family
Lost items
Past life
Mind and body
Numerology
Birthdate analysis
Karmic reading
Life path and destiny
Eastern
Book of three lives
Face reading
I-Ching
Tik Pan San Sou
Yearly horoscope
Sound Healing
Other Readings
Angel communication and reading
Animal psychic
Coffee reading
Crystal reading
Pendulum
Spiritual Guides
Palm Readings
Psychic Bios
Each psychic has a bio page with in-depth information about their history and abilities. We strongly suggest you review the bio to make sure the person you're looking at is a good fit for your needs.
You'll see a brief biography, explaining a little bit about their backgrounds. There's also a section that specifies the languages the psychic speaks and what their specialties are.
The main portion of the bio gives you the option to watch live or pre-recorded videos posted by the psychic. This is a great opportunity to get to them better before committing to a session. And, once you sign up with an account, you can also engage in a no-cost chat session with a psychic directly from their bio page.
If you're not quite ready to book a reading, you can take a look at their calendar and schedule something for when you're both free.
Oranum psychics also have the option to populate the "wall" of their bio with pictures, inspirational quotes, and testimonials. The overall look of the wall resembles a blend of Myspace and Instagram. In our opinion, it's a perfect way to become familiar with the psychic.
Many psychics choose to use the wall as a way to interact with potential clients as well as build their fan base. Sometimes, you'll see a customer review that will give you insight into what you can expect from psychic readings from a specific individual.
Pricing and Special Offers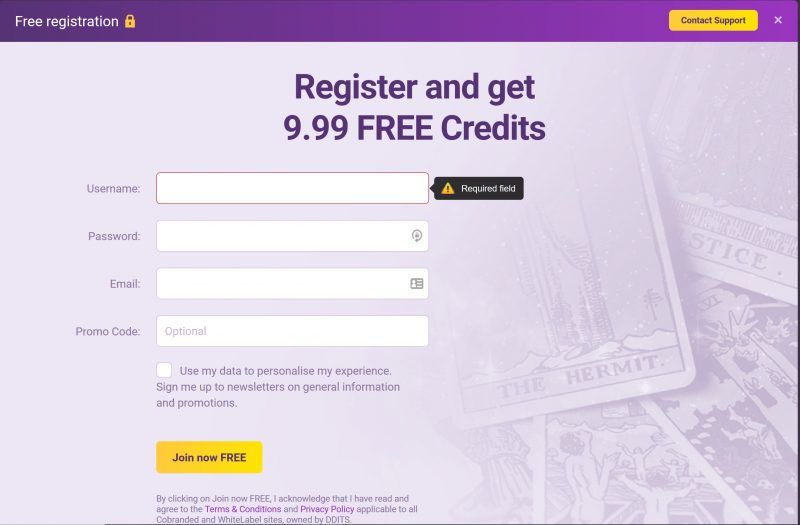 It's free to set up an account at Oranum, and with a free account, you can chat publicly before buying any readings.
Once you do decide to become a paying member and get one-on-one access to a psychic, Oranum works with a credit system. You can start with a free reading by getting 9.99 credits (no charge), but you do have to verify your age by giving them a valid or debit or credit card. This makes it easier for Oranum to charge you once you've gotten your free mini reading.
From there, packages are sold in credits. The entry-level package is for 27.99 credits (plus 1.99 in free credits) for a price of $35.99. Oranum labels this number of credits as an "in-depth reading." There are also packages called "awakened" and "cosmic," which cost $79.99 and $112.99, respectively.
Each of the psychics on Oranum has the ability to set their own reading price, so how many credits you'll need to purchase for a video chat will vary from 0.49 credits per minute up to 9.99 credits per minute.
Pros
$9.99 in free credits after registration
Video readings offer a more personal connection
Free chat rooms allow you to interact with the psychic before paying for a reading
There is a wide variety of specialties to choose from
Cons
No mention of satisfaction guarantees on the site
No phone or chat readings are offered
The screening process for Oranum psychic readers is unclear
Customer Support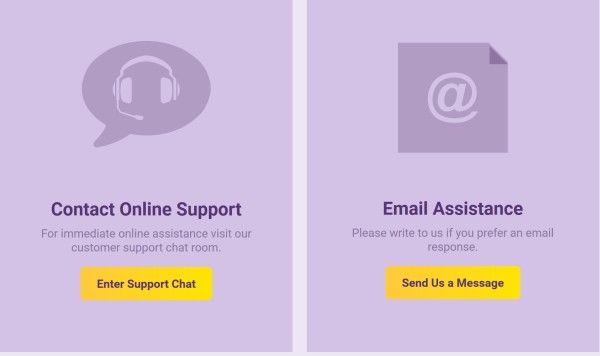 Admittedly, Oranum's psychic readings are set up differently than other platforms, so don't be surprised if you need to reach out to customer service to get some of your logistical questions answered.
Customer support is available via online chat or email 24 hours a day, seven days a week. Oranum also has a toll-free number and an international number for billing support and technical questions.
For example, if you want to do a video chat with an Oranum psychic, you'll need to have the Adobe Flash plug-in installed on your browser to access the camera feeds. If you still can't view a live stream after installing this plug-in, customer support can help you troubleshoot.
The Bottom Line
The psychic and spiritual worlds are often shrouded in mystery, and as a consumer, it can seem impossible to find someone genuine. After all, there's no guarantee that your psychic is 100% legitimate or that they'll be able to predict the future with any degree of certainty.
Still, if you're in the midst of trying to make a major decision, or you're at a crossroads in your life, it can be comforting to turn to a spiritual advisor for guidance. While there many psychic websites that offer readings, Oranum is the only one that allows you ample, risk-free time with a psychic before committing your hard-earned dollars to a reading.
Because there are so many active psychics on the platform, we can't speak to all of their abilities. However, we wrote this objective Oranum review because we believe that you can feel confident that you've met a good match. Unlike other platforms, that offer psychic readings, Oranum gives you ample opportunities to interact for free with a potential psychic before ever having to pull out your wallet.