For horoscopes and psychic readings, many people don't have the time or funds to go for a live reading. At the same time, horoscopes are an especially popular internet search, and finding a good website is not easy. You want a site that is quick, efficient, and has a good reputation. Astrology.com is one such website. With a large user database and solid affiliates, Astrology.com has established a good reputation and offers horoscopes, tarot card readings, and astrological reports delivered quickly, all online. It is a perfect "one stop shop" for the basics of astrological readings and assistance.
What Is Astrology.com?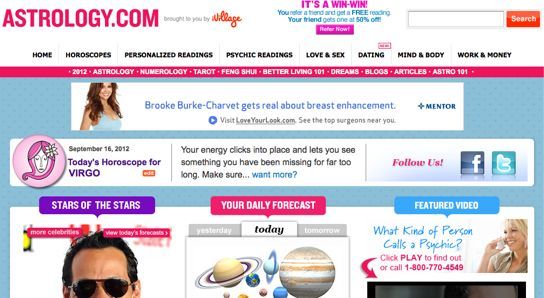 Astrology.com is a component of Horoscope.com's extensive website network. It's dedicated to providing both free and premium high quality astrological content for users on an easily accessible platform. According to their website, they boast the largest monthly audience for their astrological and esoteric content available online. They have over 50 different personalized reports available between their free and premium options, and prices vary depending on the report.
They do not have their own network of psychics, but instead connect to another website, Keen, for psychic readings. However, their website is very user-friendly and frequently utilized by a good number of people per month.
Pros
Many different reports offered, both at free and premium levels.
Particularly useful for astrology and horoscopes.
Reports delivered instantly online.
Well-established with a large user base.
Cons
No live readings directly from the website; instead, they are through Keen.
No refunds or guaranteed information on digital readings.
Tarot card readings and astrology reports are done electronically, not through live advisors.
Not as great for experts or true enthusiasts; better suited for beginners.
How Does Astrology.com Work?
Unlike some other psychic reading websites, Astrology.com does not offer "in house" psychic readings. Instead, the website will prompt you to choose from a selection of live psychics at Keen, another affiliated website. These readings are live and can be as brief as 3 minutes for free to 10 minutes for $1.99 and up. Readings are quick and efficient, and you get to choose which psychic you would like a reading from.
The same is true of tarot card readings. These are done through the network of psychics at Keen as well, and the pricing structure is the same. You can also choose if you would like your reading via chat or via phone call, so you can decide how personal you would like your reading to be. They also offer readings specifically for love and relationships, also via Keen.
The good thing about their use of Keen is that the psychics are thoroughly vetted, and you can easily view past client reviews and ratings. Each psychic also has a short description of their specialties, so you can decide which expert is the one you would like to do your reading. If you are dissatisfied with your first call, you can contact customer support through Keen, and they promise to resolve the problem within 72 hours.
If you are looking for more astrological things, you can purchase birth charts, numerology readings, and analysis of these charts. You can view a limited, free version of the birth chart delivered on their website after filling out a small bit of information, or you can pay to view the full report with an incredible amount of detail. This report will be delivered relatively quickly to your email after payment. Other free components of the astrological offerings include love compatibility for zodiac signs, in depth analysis of the signs (both Western and Chinese), daily horoscopes, and more.
Types of Readings Offered
Psychics
As previously mentioned, you can find psychics that specialize in almost anywhere you desire. You can find those who focus on love and relationships, careers, dream interpretation, and so much more. Keen's extensive selection of psychics, each with tons of reviews and helpful information, offer all sorts of readings, so you can easily find a psychic that specializes in a certain area.
Tarot Card Readings
Astrology.com also outsources their tarot card readings to Keen, but just like the psychics, all tarot card readers are thoroughly vetted, and their client reviews are easily visible. They all have descriptions about what they specialize in. However, for a cheaper (meaning free) option, Astrology.com has a free daily tarot card "reading" directly on their website. You can also get a yearly reading for a fee of $19.95. These are done digitally without the help of a psychic, so if you are looking for an authentic experience, t
his is not it. However, the readings are still somewhat detailed, and they are instant
Horoscopes
Astrology.com has free daily horoscopes based on your sign, and you can find anything from love horoscopes to flirt horoscopes and more. You can also find some based solely on career and relationships or sex, and if you want to delve even deeper into horoscopes, you can purchase a full birth horoscope for a one time fee. This is instantly delivered to your email. Purchased reports are extremely in depth.
Astrological Reports
You can purchase a number of thorough and detailed reports based on your astrological sign and your birth chart, each with a slightly different fee. All reports are delivered to your email instantly after payment, and they feature in depth analyses. However, it is important to note that these reports are not created by live psychics, but instead are generated by high-quality software. The analysis is still very thorough and informative, but you should still know exactly what you are purchasing.
Pricing and Special Offers
Psychic readings have a special offer on them where the first three minutes of a reading are free. From there, it jumps up to ten minutes for $1.99, which is still a nominal fee for a live psychic reading. However, after ten minutes, prices are set by the experts themselves. Most seem to be anywhere from $4-$6 per minute, so you can keep your readings short if that is what you wish to save yourself some money. All prices are listed next to the psychic's profile and reviews on the page on Astrology.com.
For the reports, each one has its own flat rate. After you submit your information and payment, the reports are instantly delivered to you via email. These reports are anything from your birth horoscope report, a yearly horoscope or tarot reading, a karma report, a compatibility report, and many more options. These range in price from $8.95 up to $24.95, depending on the size and type of report.
What Makes Astrology.com Unique?
Their incredible horoscope offerings are thorough and detailed, and they are great for anyone, from those just starting out with the zodiac, to pros who love to know their horoscopes. They also offer a wide variety of free, in-depth articles and readings to learn more about psychics and astrology, and these are updated almost daily. In addition, they have a free app that makes checking your daily horoscope a breeze. This is perfect for beginners or the casually interested.
Their reports are not limited only to the Western zodiac, as well, but expand even into the Chinese zodiac, numerology, and more.
Bottom Line
If you are seeking a live psychic reading directly from a website, this is not the place for you. However, by utilizing Keen, Astrology.com does offer a breadth of well-reputed psychics, so you do not need to worry about getting a reading from someone untrustworthy.
What they lack here they make up for with in-depth astrological reports and readings. However, some may not be as "in depth" as some pros would like. The reports are great for beginners and those interested in "one off" reports to learn a little more about their past, present, and future. Overall, Astrology.com is a great way to take a step into the world of psychics and astrology.
If you're not sure if Astrology.com is right for you and want to see my list of the the top psychics, check out my home page!